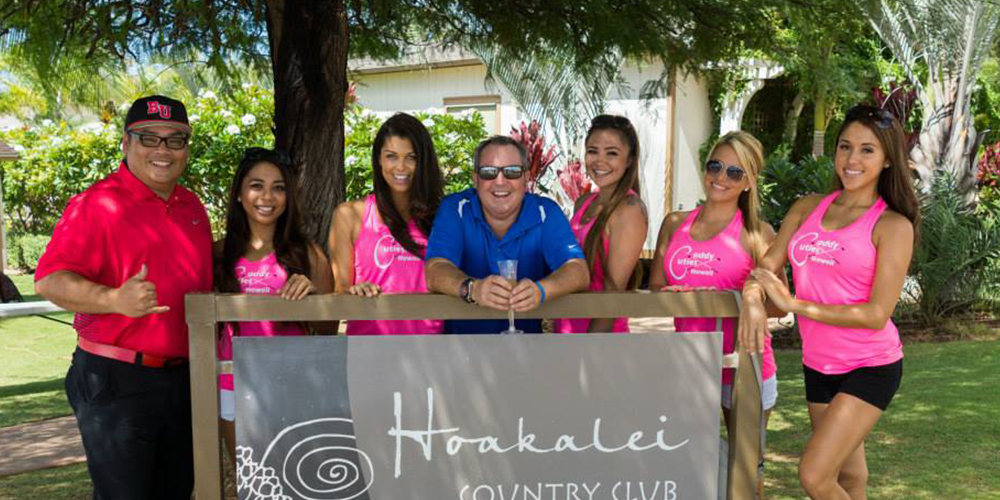 MAHALO FOR YOUR SPONSORSHIP & SUPPORT!

Thank you to all of our sponsors, vendors, volunteers and golfers for helping make this annual charity golf tournament a success once again! Special thanks to Reeny Latorre Holt, Kerry Lum, and all of the employees of Admor HVAC Products for their donation of time, money and physical labor. We could not have provided such a great tournament experience without you!
The 2014 Golf Tournament raised $30,000 for the University of Hawaii Cancer Center!
The coolingcancer 2nd Annual Charity Golf Tournament was held on Friday, August 29, 2014 at the beautiful Hoakalei Country Club in Ewa Beach, Hawaii. Like our first tournament in 2013, this year's event SOLD OUT with 162 players. The Three-Person teams filled up fast and the tournament officially was a sell-out almost three months prior to the event date. We did our best not to disappoint and made sure our golfers were well taken cared-of with plenty of Caddy Cuties and models from Larson Talent Hawaii. The University of Hawaii Rainbow Dancers made an appearance, as did Miss Maui and a few other local celebrities. Complimentary food, beverages and cigars were provided on course. We concluded the day by awarding the top 21 teams great prizes including 50″, 42″ and 39″ televisions for the entire teams.
100% of the net proceeds received by coolingcancer at this event will be donated to the University of Hawaii Cancer Center. With more of our loved ones being affected by cancer each year, it is important that we continue to fight to find a cure.
On behalf of the coolingcancer organization, we sincerely thank you for your support, participation and donations. Without YOU this event would not have been possible. MAHALO!
View photos from our 2nd Annual Golf Tournament by Mark Ramelb Photography.