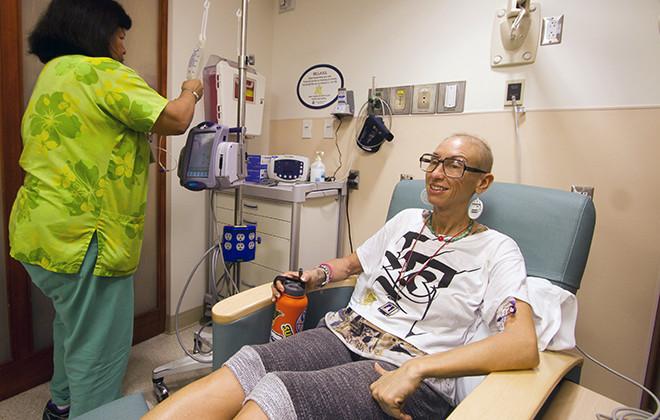 Written by: Kristen Consillio, Star Advertiser, September 18, 2015 @ 1:30am
The Queen's Medical Center said it has become a member of the MD Anderson Cancer Network, part of the University of Texas MD Anderson Cancer Center, ranked No. 1 in the "Best Hospitals" survey published annually by U.S. News & World Report.
The organizations, which were set to announce the deal Friday, didn't disclose the financial details of the three-year partnership.
"This will change cancer care forever for the people of Hawaii," said Darlena Chadwick, vice president of the Queen's Cancer Center. "We have the No. 1 cancer center that is helping us with their expertise and their standards. Patients get the best cancer care right here in Hawaii with this affiliation, and they don't have to travel to the mainland. It's amazing."
The affiliation also gives Queen's oncologists, nurses and other medical personnel access to the latest data in cancer research, educational opportunities, best practices and treatment plans developed by leading cancer experts.
"The goal of the program is to get people treated in the best possible way where they live and have their family support network," said Thomas Burke, executive vice president of the MD Anderson Cancer Network, which does more than 1,000 clinical trials on its main campus in Houston. "We have a very broad clinical trials program. We would like to select trials that would be appropriate for patients seen in Hawaii and offer that locally instead of patients having to travel."
MD Anderson has large teams of specialists devoted to specific types of cancer, including between 60 and 70 breast cancer researchers.
"A lot of the thing we're trying to do is really move out the discoveries that happen in Houston in a much more rapid way and do what we can to partner with high-quality programs throughout the United States and internationally," he said.
The partnership will extend MD Anderson's educational opportunities, including "rotating physicians back and forth" between the two organizations, he added.
"This new collaboration with MD Anderson Cancer Network helps to elevate cancer care in our community by providing patients with the benefits of international expertise previously only available out of state," Art Ushijima, president of Queen's, said in a news release.
The partnership also makes it easy for cancer patients to seek second opinions from MD Anderson doctors through their local physicians, Chadwick said.
"If a patient is diagnosed with breast cancer, now we have MD Anderson specialists on videoconferencing with us, helping us make treatment decisions," she said. "Any time a physician at Queen's has a question or wants a second opinion, they have access to MD Anderson specialists. This makes it so easy for Hawaii residents. This will improve cancer care for the people of Hawaii from this day forward."
Christa Wittmier, a local celebrity DJ known as SuperCW, who was diagnosed with stage IV cancer in May, said she is excited that patients will be able to connect with national cancer specialists.
"This means more opportunities and a great potential to really beat this disease," said Wittmier, who found out this week that her cancer is in remission. "I think of others with cancer and how much better their journeys may be now. It gives us all more hope."
Queen's also is expanding its cancer center and staff to accommodate a growing number of patients. An estimated 6,700 Hawaii residents will be diagnosed with cancer this year, and more than 2,400 people will lose their lives, according to the American Cancer Society.
In addition, Queen's plans to expand its reach with more robust cancer programs at the Queen's Medical Center-West Oahu, North Hawaii Community Hospital and Molokai General Hospital, and eventually hopes to bring the MD Anderson partnership to those facilities.
"It's so sad we have rural communities on the neighbor islands and sometimes they opt not to get treatment because of the expense and lack of coordination, and that's what we're going to solve," Chadwick said. "We're going to make sure they have that opportunity for treatment. These are very treatable cancers. It's well worth the investment for cancer patients. I believe all cancer patients, everyone, deserves this level of cancer care."
Queen's is among 12 certified members across 11 states in the MD Anderson Cancer Network.