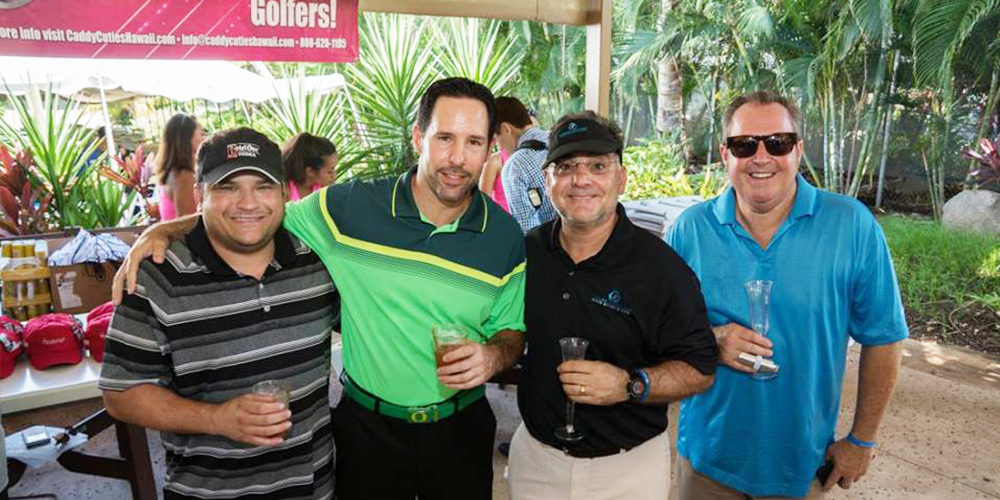 Thank you to all of our sponsors, vendors, volunteers and golfers for helping make this annual charity golf tournament a success once again! Special thanks to all that donated their time, money and physical labor. We could not have provided such a great tournament experience without you!
We are pleased to say that this year's CoolingCancer Golf Tournament has raised a substantial amount for the University of Hawaii Cancer Center!
The CoolingCancer 3rd Annual Charity Golf Tournament was held on Friday, September 4, 2015 at the beautiful Hoakalei Country Club in Ewa Beach, Hawaii. Like our previous tournaments, this year's event SOLD OUT two-months prior to our event date with 168 golfers registered. Although the tournament was cut short due to weather, golfers still enjoyed themselves with a variety of unique beverages and great food from Cafe Duck Butt, Hoakalei Country Club Catering, Popeye's, Kahai Street Kitchen, and Maile's Thai Bistro. Helping out with the tournament again this year were the Caddy Cuties, models from Larson Talent Hawaii, and the University of Hawaii Rainbow Dancers.
100% of the net proceeds received by coolingcancer at this event will be donated to the University of Hawaii Cancer Center. With more of our loved ones being affected by cancer each year, it is important that we continue to fight to find a cure.
On behalf of the CoolingCancer organization, we sincerely thank you for your support, participation and donations. Without YOU this event would not have been possible. MAHALO!
Please visit www.coolingcancer.org to make a contribution, donate for logo merchandise, or post a photo and brief story about someone you know who has battled to win or lost their fight with cancer.
View photos from our 3rd Annual Golf Tournament by Mark Ramelb Photography.